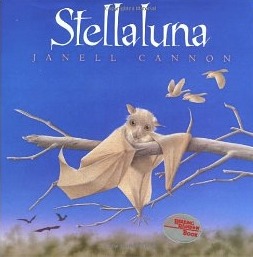 After a long outing to Seoul (just getting there on public transport took 2.5 hours!) we came home.  While Mom made chicken noodle soup to heat our minds and tummies after a snowy return journey (22 March 2010!), Bentley asked me to read his latest favorite book,
Stellaluna
.  
The students just started a "Reading Challenge" where each kid has a personal goal based on grade level and ability.  Bentley has 5 weeks to read 200 books.  That seems like a lot, but for pre-k all their books count from "Bob" books to entry readers like "Sorting Leaves" and of course "long" books like Dr. Suess.  I figure that means 40 books per week.  So we are reading everything I can get my hands on.
Well this week is Spring Break (first day today) so this week off is an incredible opportnity to read.  I am trying to get 10 books per day done.  We hit the 50 books mark this afternoon!  At this rate we are on target and he should have 100 books done before Monday next week when classes resume.  That will leave 3 weeks to read the next hundred.  At 21 days that means only 5 book a day.   Cinch since we usually read about that many for bed time any way on a normal non-competitive day.  
Of course any excuse is good to cram in a few more books.  "Dad, can I have a No Bake?"  
"Bentley, let's read 3 books first."
"Dad, wanna play Sorry?"  
"Bentley, let's read 4 books then we can play Sorry."  
He feels bad that if he wins the other kids will not win.  Hmmm I am not sure where to go with that one.  This child has a tender heart.  He is such a joy!

He wants everyone to be a winner, but like Mr. Incredible said, when everyone is a winner; no one is a winner.  So we'll take that trophy; thank you!